New Players for Algeria, Africa Team of the Year
March 25th, 2010 | by: Omar |

View Comments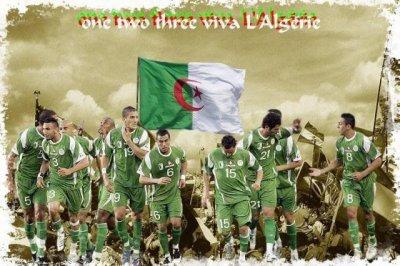 Algeria's progress has been recognised by the Confederation of African Football (CAF) , the confederation voted Algeria best Africa team of the year and Ivory Coast Didier Drogba was voted best player of the year.
Madgid Bougherra, after winning best Glasgow Ranger player of 2009, is nominated for this year's award ( you can still vote for him here )
As hoped, Algeria coach Rabah Saadane will make changes to the National Team: several players will not continue the World Cup adventure, those players are:
Raho Slimane (ESS), Réda Baâbouche (MCA), Samir Zaoui (ASOC), Mohamed Ousserir (CRB) and Yacine Bezzaz (Strasbourg).
For Chaouchi, Belhadj and Halliche who were red carded in January AFCON we'll still have to wait until April for the FIFA decision. There are 3 game suspensions for Chaouchi, 2 for Belhadj and 1 for Halliche (already served), the question is do they only apply to CAF matches or to FIFA matches as well? The answer next month.
On top of that we have players lacking competition and injured players:
Glasgow Rangers's Magic Bougherra injured his leg and will be out for about three weeks. He is currently recovering in Qatar. Let's hope he will be ready for the National Team training camp on 18th May in Coverciano, Italy.
Lazio Roma's midfielder Mourad Meghni has a tendinites and is out for 3 to 4 weeks and may miss the World Cup.
Matmour who lacked playing time with his club Mönchengladbac is just back in training after being out for 10 days due to injury.
Hassan Yebda (Portsmouth) will be out 3 weeks for a menisci injury, a surgery is planned for after the WC.
Nadir Belhadj got also injured last Tuesday and will be out for about 4 weeks thus missing the FA Cup semi-final. Still, he will leave his troubled club Portsmouth possibly ending in AS Roma or Celtic Glasgow or FC Barcelona even, we'll see.
Antar Yahia is not getting enough competition and wants to leave VfL Bochum. Still, he is confident Saadane will take him to South Africa despite Saadane recently saying " I cannot rely on players lacking competition". Antar Yahia is not the only one lacking competition as Medhi Lacen, since the Serbia game, is not playing much competition with his club either…
These are a some of the bad news, the good news are;
AEK Athens' Djebbour and Sienna's Abdelkader Ghezzal are also doing well with their clubs. Ghezzal even scored two (easy) goals against Junventus: "My response to those who doubted me" he said…
Wolfsburg's Karim Ziani is finally getting some competition! He did not get much playing time since returning from Angola's AFCON, hopefully he will be fit for the WC.
There has been lot of talks and speculations the last few weeks regarding the possible new Algeria players. Here are the names that have been thrown around in the press:
Adlane Guedioura (Wolverhampton/England),
goalkeeper Michael Fabre (Clermont foot/France),
Sofiane Feghouli (Grenoble/France),
Rafik Boudebbouz (Sochaux/France),
Mohamed Chakouri (Charleroi/Belgium).
Walid Cherfa (Nasic Tarragona-Spain),
Habib Bellaïd (US Boulogne-France),
Carl Medjani (Ajaccio),
Djamel Mesbah (Lecce-B Serie Italy),
Mehdi Mostefa (Nimes – France),
Karim Soltani (Den Haag-Holland),
Ismaïl Bouzid (Hearts of Midlothian-Scotland),
Nadjem Annab (Westerloo-Belgium).
The following players were also cited although less frequently:
Carl Medjani, 24, defense AC Ajaccio
Rafik Saïfi (Istres) – Yes our national Saifi might still make it to the World Cup
Abdlekader Laïfaoui (ES Sétif)
Hemza Mihoubi, 24, (AC Bellinzone, CH)
Meftah, Hadj Aissa, Messaoud, Raïs M'Bolhi (Slavia Sofia, Bulgarie)
The final player list will be known on May 15th.
The Algeria team do have talent and we can understand why German football legend Franz Beckenbauer has said that the Algerian selection is a "good team" that can target the "second round" at the upcoming World Cup 2010 in South Africa. England coach Capello seems to agree as he said:
"Algeria played against Egypt and beat them (in the World Cup qualifiers) so Algeria are probably stronger than Egypt,". "I respect this team.".
England players aren't immune to injury either and unlike David Beckham's injury, Rooney's knee injury could give Capello a headache.
We'll just have to wait and see, who will be in and who will be out.
What's next for the desert Warriors?
May 20th-28th 2010
First training camp in Coverciano, Italy (where the Italian Squadra Azzurra usually retreats).
May 29th 2010
Ireland Vs Algeria in Dublin
June 2nd-5th 2010
Last training camp in Algiers before South Africa.
June 5th 2010
UAE Vs Algeria – Location yet to be determined.
June 6th 2010
Departure for South Africa on a special flight.
1, 2, 3 Viva l'Algerie!
(To join the discussion on Algeria's 11 click here.)
Some players in action:
And just for the fun:
[Updated on March 25th with the Algeria program]
Subscribe

Algeria World Cup Team Blog RSS Feed

Share
blog comments powered by Disqus