2013 AFCON Preliminary List V2
December 18th, 2012 | by: Kazi |

Comments Off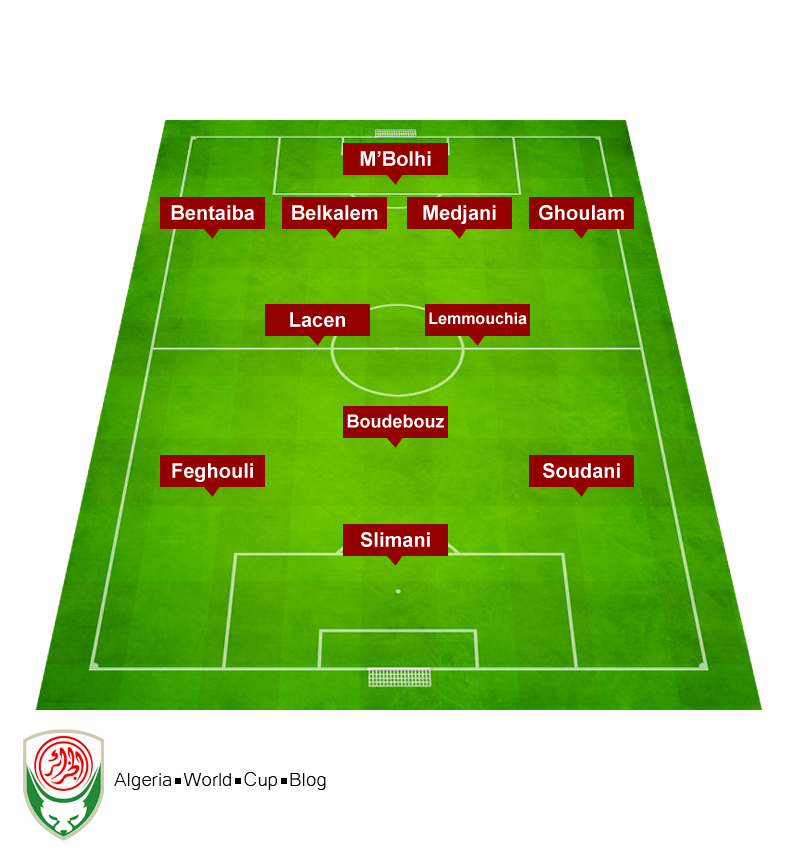 The second preliminary list for the 2013 AFCON squad is as follows:
Goalkeepers:
• Rais Ouheb M'Bolhi
• Azzedine Doukha
• Cedric Si' Mohammed
Defenders:
• Essaid Belkalem
• Carl Medjani
• Rafik Halliche
• Ali Rial
• Mehdi Mostefa
• Liassine Cadamuro Bentaiba
• Djamel-Eddine Mesbah
• Faouzi Ghoulam
Midfielders:
• Adlene Guedioura
• Mehdi Lacen
• Khaled Lemmouchia
• Saad Tedjar
• Hameur Bouazza
• Sofiane Feghouli
• Djamel Abdoun
• Foued Kadir
• Ryad Boudebouz
• Yacine Bezzaz
Attackers:
• Al Arabi Hillel Soudani
• Islam Slimani
• Mohamed Amine Aoudia
Absentees from the list of 40 include:
• Rafik Djebbour
• Abdelmoumene Djabou
• Madjid Bougherra
• Hassan Yebda
• Mohamed Lamine Zemmamouche
• Mokhtar Benmoussa
• Ishak Belfodil
• Abderrahmane Hachoud
To say this list is surprising in the least is an understatement. However, I am not surprised by one call that everyone is surprised by, and that is of Djebbour's non-call up. But I'll get into that later, first of all, analysing the list.
As you may have realised, this is a list of 24 players as opposed to the permitted 23 for the final tournament squads. This is yet again another preliminary list and the final list will be submitted on the 9th of January 2013 before the tournament begins. Between now and then, a lot of things can change. Abdoun's injury may not progress well and Bezzaz/Bouazza will have their spots assured in the squad (God forbid, we hope for the speediest of recoveries for Abdoun). Yebda's game time from now until the tournament looks minimal to say the least but he still may have the opportunity to prove to Vahid that there's something of use there. Djabou is hitting form but some might say he hit it too late, but there is time remaining to change Vahid's mind.
As for those that have been left out, well, it's quite simple in a lot of their cases really. Zemmamouche was left out because there are only 3 Goalkeeper spots and he isn't as good as the selected 3. Benmoussa and Hachoud are luxuries at FB the squad limitatons ensure that we cannot afford. Bougherra has been out for quite some time with injury, Djabou hasn't played a single game for Algeria since Luxembourg, Yebda's been injured for most of the time since then and Belfodil is to secure his place in the Parma lineup.
And then there's Djebbour. This comes as no surprise to me. Know why? Because he has been the least impressive out of the 4 striking options provided to Vahid since he joined. Though Aoudia has not scored any goals yet, he has been more impressive than Djebbour every time he played. In Gambia and Tanzania, he was an ever-present threat at the opposition goal. Against Bosnia he showed good strength despite the atrocious conditions. As for Djebbour? Djebbour has never been the striker for Algeria that he was for AEK or that he is for Olympiakos. Whilst he regularly gets the goals there, he often seems to disappear for large portions of matches when with the National Team. Soudani and Slimani formed a formidable partnership over the course of the past year and Djebbour didn't look like he was getting anywhere near to breaking into the starting line up. And when you consider that he is far away from being an impact sub, you realise that if Djebbour doesn't start, then he's not of much use. In Aoudia, Algeria have a trio of domestic bred strikers, with excellent physicality and work rate to them. I am not disappointed.
Another surprise is the introduction of Ali Rial at CB. This is a logical choice. Though Chafai' is a good CB, he is very young and his talent doesn't compensate for the lack of experience going into a tournament like this. Ali Rial however does have the required experience and though he shouldn't expect to start or even get minutes off the bench, he would still be a suitable back up choice to call upon.
However I am disappointed by the call-up for Bouazza – who unfortunately was ambushed at his home by Racing Santander fans protesting the team's poor performances, thankfully he is okay – which doesn't make much sense to me, seeing as he doesn't offer the team much in the way of creativity or impetus, often causing good plays to fall apart with a lack of clinical passing or awareness. I doubt he will make it to the final list of 23 but in my eyes, Djabou was a much better option.
Otherwise this list is a pretty strong one. The CB's suddenly look very strong with Halliche, Belkalem, Medjani, Rial and Bentaiba, if needed, all on one list. With the re-introduction of Abdoun, the midfield also looks stronger. Vahid can do a lot with this team and if he can focus them properly, then we could be looking at a successful tournament in January through February insha'Allah.
As with every list, I post my ideal starting line-up. For the 2013 AFCON, this is my predicted strongest lineup with permutations for the changes we'll see during the tournament:
GK: M'Bolhi
LB: Ghoulam/Mesbah
CB: Belkalem
CB: Medjani/Halliche
RB: Bentaiba
DM: Lacen
DM: Lemmouchia/Guedioura
LAM: Soudani/Abdoun
CAM: Boudebouz
RAM: Feghouli
ST: Slimani
Insha'Allah Kheir.
Subscribe

Algeria World Cup Team Blog RSS Feed

Share
Comments are closed