Algeria vs Group D
January 20th, 2013 | by: Kazi |

Comments Off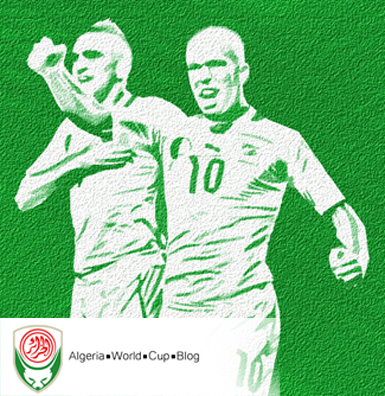 So, with the AFCON now literally around the corner, I thought it's high time we took a thorough look at our team's chances in the tournament, and also take a look at our opponents in Group D.
First off, a refresher on the final squad list:
GK:
• Rais Ouheb M'Bolhi
• Azzedine Doukha
• Cedric Si Mohamed
DF:
• Essaid Belkalem
• Ali Rial
• Carl Medjani
• Rafik Halliche
• Liassine Bentaiba
• Mehdi Mostefa
• Djamel Mesbah
• Faouzi Ghoulam
MF:
• Mehdi Lacen
• Adlene Guedioura
• Khaled Lemmouchia
• Saad Tedjar
• Sofiane Feghouli
• Ryad Boudebouz
• Foued Kadir
• Yacine Bezzaz
• Hameur Bouazza
FW:
• Mohamed Amine Aoudia
• Islam Slimani
• al-'Arabi Hilal Soudani
As well all know by now we drew the short stick in being placed in the toughest group of the upcoming tournament, featuring our neighbours Tunisia, recent absentees Togo and the favourites, the Ivory Coast. However, though other teams will have a considerably easier task of getting through to the next round, we should see this as an opportunity to signal our intent in the tournament. A good performance in the group stage can turn heads our way now, rather than the occasional glance with the corner of the eye.
Our first match is against our brothers from the East; the Carthage Eagles of Tunisia. A North-African derby is always a mouth-watering prospect, a North-African derby in a tournament is even better, but a North-African derby that may end up deciding who takes second place in the group stage is just that much better. This game is important. If the Ivory Coast come with all their guns – the Toures, Drogba, Doumbia, Tiote and co. – blazing, then we're going to most likely have to thrash it out with the Tunisians for second place. That's not to say 1st place is impossible for either team even with the Ivory Coast (henceforth written as IC) firing on all cannons, both teams and maybe even Togo, can surprise the Elephants and throw a spanner in the works, but in the case where that doesn't happen, the first game between Tunisia and Algeria will most likely decide the runners up.
We can't take any perceptions of being tentative in this first game, we have to go all in. Tunisia will come at us with all their attacking options ready to cause our up-to-this-point stable defence some serious problems. Youssef M'sakni, Oussama Darragi, Zouheir Dhaouadi, Saber Khelifa and, to a lesser extent, Issam Jemaa', are all available to them to make our first game in the 2013 AFCON a nightmare. The key to getting anything out of this game will be to keep two key players quiet; Dhaouadi and M'sakni. Dhaouadi is in my opinion Tunisia's best player, and one of the most underrated playmakers on the continent. On the other hand, M'sakni's exploits in last year's edition of the AFCON still live strong in the memory. With these two neutralised, two of the strongest aspects of Tunisia's game will have been neutralised.
The other aspect we will have to address when facing them is their defence, namely their stalwart defender Aymen 'Abdennour. If there were any player I would want from their side right now, it would be him. He is easily one of the top 3 defenders Africa has to offer at this point, and his form in Ligue 1 has not gone unnoticed either. Our forwards and midfielders will have one of their most difficult tests when trying to get anything past him. He is a strong and unforgiving defender, ready to make his manager and fans proud whenever in a one-on-one situation. I fear our forwards lack the technical efficiency to get past him, but what they lack in technique they make up for in physique, namely height. Both Slimani and Aoudia, whoever starts right up front, would be capable of getting the jump on 'Abdennour when the ball is crossed in (so long as the fullbacks and wingers get their crossing game together, it's been poor of late). Soudani has the brute force to make up for the lack of height, and his pace will be useful against the Tunisian defence. As for unlocking them, it will be down to the midfielders to provide the killer ball. Look to Feghouli or Boudebouz – who interestingly scored his first goal for Algeria, and as of yet only goal for Algeria, against the Eagles – to use their technique to put in passes for the strikers to latch onto. Kadir, though also technically adept as he has shown in Ligue 1, needs to up his passing game for us if we're going to be working as a cohesive and strong unit.
Key player – Zouheir Dhaouadi: Neutralise him and we have a better chance of doing well in this game.
Moving onto our next game against Togo, who are back after leaving the 2010 AFCON due to the tragic shooting in Cabinda. They've had a rollercoaster ride to the tournament, with main man Emmanuel Adebayor playing the irked employee refusing to come to the tournament then changing his mind again and again. As it stands, he is coming to the tournament but regardless of whether he does come or not Togo will have a chip on their shoulder, and a point to prove after their lengthy absence. They will not be an easy team to face and though the manner of their play will be a bit of a mystery they will be difficult to face. Do not consider them a whitewash victory in the waiting, they will not make it that easy for us and they know that their potentially best chance of them getting 3 points in the tournament will be against us, a largely inexperienced national side, considering the other opponents in their group.
I won't ramble about Togo, because I would most probably be talking in conjecture. All I know is that a team capable of beating Morocco, friendly or not, is a team worth thinking seriously about facing. If they have Adebayor in the side then they will be an even bigger threat. What we need in this game is for our central midfielders, whoever Vahid chooses to line up alongside Lacen, to be on top of their game, and close out any chance the Togolese midfielders have of supplying Adebayor.
Key player – Emmanuel Adebayor: If on the day he is there, we will have to make sure our centre backs will deal with him individually and our midfielders deal with the supply to him.
Our final game in Group D will be against the team that without a doubt are the tournament favourites (again) this year; the Ivory Coast.
Everyone knows why they're favourites. Drogba, Gervinho, Doumbia, Traore, Yaya Toure, Kolo Toure, Tiote, Zokora, Demel and Bony. It's just a collection of some of the best talent Africa has to offer isn't it? They will be the fiercest test we will potentially have to face in the tournament. A draw against them is by no means a disaster depending on how things go prior to then, but a win would be a serious statement of intent. And a win is not impossible. We are now headed by the same coach who we got sacked when we last played against the Elephants, in Vahid Halilhodzic. His experience with the Elephants will be invaluable in this game and his experience may prove pivotal in the tactical battle between him and the inexperienced IC manager Sabri Lamouchi.
In this game defence will no doubt be the number one priority. Do not be surprised to see Vahid pack out the defence with a sweeper behind two centrebacks and utilising three centre midfielders for a large part of the game, although, that would be very unlike his attacking style of play. Players like Essaid Belkalem will be given their first chance to prove their mettle in comparison with the likes of Bougherra and Yahia who were largely successful when facing Drogba last time. Halliche is there to provide the experience from last time and Drogba will be a familiar face to him. Here I'm afraid we will have to play the counterattacking game, utlising our renowned ability to cause mayhem at pace when breaking, with Feghouli and Boudebouz no doubt to be utilised as the key instigators of such attacks. The option for the more attacking fullbacks in Ghoulam and Bentaiba may be used to further aid the breaks forward.
The manner in which we play this game depends on how we have fared in the two previous matches. If we do well and win both, then we can take our foot off the pedal and this one and play it safe for the draw. If we're in a precarious position then we will have no choice but to pull out all the stops for the win.
But the likes of Yaya Toure and Didier Drogba will make life difficult for us, not to mention the players who are available on the bench to cause further problems later on in the game. Shutting down the play to them will be by no means easily, considering their forwards are very capable of creating play themselves, but it will be necessary.
Key player(s) – The whole bloody attack: Getting anything from this game will require us to have bastion-like defence in the face of arguably the best striking force of any African nation.
Insha'Allah kheir and 1,2,3, viva l'Algerie.
Subscribe

Algeria World Cup Team Blog RSS Feed

Share
Comments are closed