FIFA WORLD CUP 2010 – Algeria Vs England Preview
June 14th, 2010 | by: Omar |

View Comments
The World Cup has well and truly started for Algeria and our next match with England is here to remind us of it. This match is the opportunity for the Desert Foxes to redeem themselves from the defeat against Slovenia and make a name for themselves as did the generation of 1982. It will not be an easy task and the priority will be not to lose, even if a draw will not lead us anywhere…
England World Cup History:
Winners 1966, Semifinals 1990, Quarterfinals 1954, 1962, 1970, 1986, 2002, 2006
In this World Cup England is lead by coach Fabio Capello. The Italian has the most impressive resume in this tournament. He managed for 15 club seasons in Europe, winning eight league titles with AC Milan, Real Madrid, Roma and Juventus (a ninth was revoked after the Calciopoli scandal). He has made three European Cup finals and won one.
In qualifying, the England team scored six more goals than any other European country. England have lost only one of their last 14 World Cup group stage matches, keeping 10 clean sheets. England have kept a clean sheet in seven of their last nine World Cup matches, conceding twice in the other two. No wonder the British public had faith in their new England Manager. However, following the 1-1 draw with the US the manager's choices have now been questioned and he is under pressure to win the Algeria match and turn Cape Town into Capello Town on Friday.
The England team is made up of several quality players such as Wayne Rooney. He has matured into a leader, almost single-handedly keeping Manchester United relevant. He scored 34 goals in 44 appearances this past season. Rooney will likely play behind a big striker such as Emile Heskey. Although Heskey doesn't score many goals he is extremely hardworking, unselfish, holds up the ball well and wreaks havoc on back lines with his immense physical presence. He gives Wayne Rooney the space to be Wayne Rooney. Rooney is a player that works hard, that is happy to fall back to help and can create goals out of nothing.
Then we have premiere league stars such as Steven Gerrad, Ashley Cole, John Terry, Peter Crouch and Frank Lampard. Any football team would just be happy to have those three names amongst its ranks.
Lampard vowed to make his last World Cup one to remember for England and believes the vast experience in the squad could be a crucial factor in their bid for success.
Although Rio Ferdinand and possibly Ledley King are out due to injury, Ashley Cole and John Terry are capable of holding the defense together. In midfield Gareth Barry has strong defensive credentials but it is moving forward that they are strongest with Lampard, Gerrard and Joe Cole. In reserve they have Aaron Lennon and James Milner who can more than hold their own.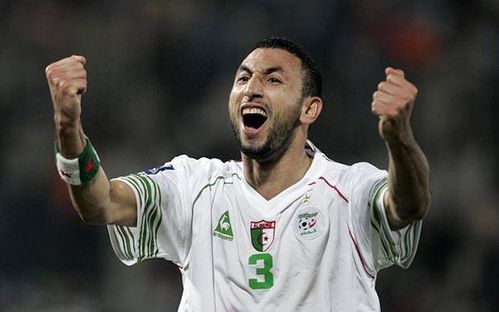 Having said that, the English players don't have the technique to hold possession well. They don't try. They are direct, aggressive and use their athleticism to their advantage. Also, England's weakness is defense, not only because of age and injury but because they have goal keepers like Robert Green which we compared Chaouchi to yesterday and another goal keeper David James nicknamed 'Calamity James' for good reason. These would be good weaknesses to exploit as long as we have a team in an attacking mood and a striker able to finish the job, unfortunately Algeria has not showed us that side for a while now.
We might play the match on African soil but England fans are expected to easily outnumber the Algerian fans. Also, England can expect support from the local population. As in Japan and South Korea in 2002, many South Africans are expected to adopt England as their second team, partly due to the popularity of the Premier League. Last but not least, England will receive royal support from both Princes William (president of the Football Association since May 2006) and Harry.
Saadane will probably keep the 3-5-2 team that played against Slovenia. We also know that Ghezzal will not play, we can therefore hope to see Boudebouz play. Ideally, we should also have Guedioura play that game as the athletic player is suited to the English style game he already knows. Let's hope Chaouchi will keep his confidence and be on top shape. We'll also need to see our Algerian team play better collectively and support our too often isolated strikers.
Likely starting Algerian 11:
Chaouchi
Bougherra Halliche Yahia
Kadir Yebda Lacen Belhadj
Ziani
Matmour Djebbour
The England squad:
Goalkeepers:
Joe Hart (Manchester City), David James (Portsmouth), Robert Green (West Ham)
Defenders:
Michael Dawson, Jamie Carragher (Liverpool), Ashley Cole (Chelsea), Rio Ferdinand (Manchester United), Glen Johnson (Liverpool), Ledley King (Tottenham), John Terry (Chelsea), Matthew Upson (West Ham), Stephen Warnock (Aston Villa);
Midfielders:
Gareth Barry (Manchester City), Michael Carrick (Manchester United), Joe Cole (Chelsea), Steven Gerrard (Liverpool), Frank Lampard (Chelsea), Aaron Lennon (Tottenham), James Milner (Aston Villa), Shaun Wright-Phillips (Manchester City);
Forwards:
Peter Crouch (Tottenham), Jermain Defoe (Tottenham), Emile Heskey (Aston Villa), Wayne Rooney (Manchester United).
32-year-old referee Ravshan Irmatov, the youngest official to take charge of a World Cup opening match since 1934, has been appointed to run England's next game against Algeria in Cape Town.
The referee
The referee for the match is Ravshan Irmatov, the only Uzbek referee to have officiated in the finals of a Fifa tournament. The 32 year old refereeI is also the youngest official to take charge of a World Cup opening match since 1934. Most importantly, he disallowed a valid goal by Mexico's Carlos Vela against South Africa during the opening match.

The Algeria matches
Algeria v England June 18 8:30 p.m. local time Cape Town
Algeria v United States June 23 4:00 p.m. local time Tshwane/Pretoria
Subscribe

Algeria World Cup Team Blog RSS Feed

Share
blog comments powered by Disqus