Pre-Match: Algeria vs Libya
September 9th, 2012 | by: Kazi |

Comments Off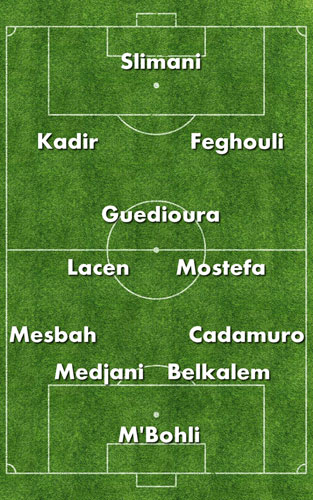 The suggested official line up for tonight's game. Waiting for the confirmation with the team sheet. Djebbour, Soudani and Boudebouz are all on the bench. Initially it was reported that Soudani was starting in a 4-2-2-2 formation, but now it is reported that Mostefa is starting in his natural defensive midfield position in a 4-3-2-1 formation.
If either one is true, then both have the logic to support them. 4-2-2-2 is our working formation and has brought forth rewards for us in our last few games. The tenacity and movement of the forward duo would help us further.
The 4-3-2-1 makes sense in order to combat Libya's movement in the middle, providing extra defensive cover for Guedioura when he goes up to support the offense. Vahid knows that recuperation of the ball and the turnover from defense to offense will be key in this game. The Libyans can wear most teams down but if we get at them with enough pace they won't be able to cope.
Last word: Complacency, just because we're in Morocco, cannot be allowed.
Insha'Allah kheir.
Subscribe

Algeria World Cup Team Blog RSS Feed

Share
Comments are closed